Before we can talk about avoiding Facebook Ad disapprovals, we need to understand the approval process. When you create an ad and publish it, before any ad goes live, it goes through an approval process. This is an automated process in which an algorithm analyzes the components of your ad and determines whether it complies with Facebook Advertising Policies and Community Standards. If the algorithm detects any violations, the ad will be disapproved. Typically when you submit your ads for review, you'll get either approved or denied within 24-hours, though approval times may vary.
It's important to understand this, because we know that algorithms are imperfect. This is the reason why some ads are disapproved erroneously. Even if you have followed all of the rules for advertising.
It's also essential that you understand Facebook Advertising Policies and Community Standards. I will link to those resources so you can review them yourself, but I also want to review some of the most common issues for ad disapprovals. The jargon can be confusing if you're not intimately familiar with Facebook Ads.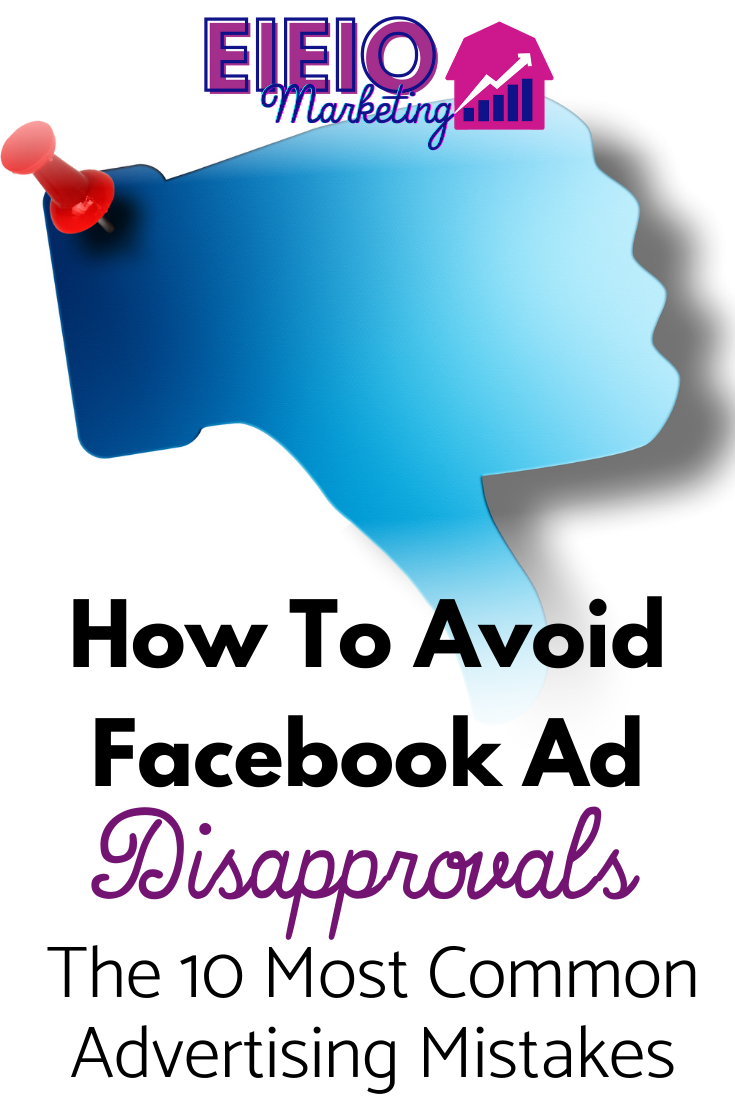 10 Ways to Stay on Facebook's Good Side
1 – Text Rules
Facebook's rules when it comes to text overlay in images have changed significantly over the past few years. Because so much online information is outdated I want to provide a brief history, so if you encounter conflicting information you can understand why that might be.
Originally, you were not permitted to have text overlay on 20% or more of an image. Facebook had a grid tool that measured what percentage of the image included text. If it was over 20% your ad was denied.
Then, Facebook removed that rule and made their guidelines more general. Facebook would analyze each image and determine if it had none/low/medium/high levels of text on the image. Ads would not be denied, but you'd pay more the higher your ad ranked.
Now, all those rules are gone. Your ad creative is not penalized for having (or not having) text. So basically this rule is no longer relevant – but, it's still referred to a lot, so I wanted to address it.
2 – No content that infringes upon or violates rights
This means that you can not use music that does not belong to you or images that do not belong to you.
More often than not, this denial reason is seen with music in the background of videos. It's not enough to say that you don't own the rights to the music in your copy. You can not run ads with music you don't own.
3 – Violent or scary images
Facebook is primarily concerned with the user experience – and no one likes to see violent content that's gory, scary, or disgusting. No "shock and awe" type stuff. So ensure that your images don't include anything gross, bloody, or creepy.
4 – Too much skin or too zoomed in
Facebook doesn't want to promote over sexualized images. Unless you're selling underwear, the people in your ads should have clothing on. They also don't want to post photos that zoom in on any specific body parts – like an extreme close up of smiling teeth for a dentist, or a thin waist for a diet coach.
5 – Fake Buttons
No one wants to click on a button only to discover it doesn't actually do anything. Facebook knows that, and so they prohibit advertisers from putting fake buttons on images. The most frequent way this is done is that people will put a video Play button on an image, so that when people click the button to play the video it opens their website – not okay.
6 – You can't assert or imply personal attributes in your ads
This is a tricky one and it pops up all the time. Facebook targeting is incredible, you can narrow it down to only women who are 35 years old and have children. What Facebook does not want is for the ads to be super creepy and act like you know everything about those people. "I see you, 35 years old, watching your little one grow up before your eyes…" creepy, right?!
As a general rule of thumb, try to avoid words like "you" and "your."  And you'll also want to avoid things like "Other women in their 30's also…"
When you write your ad copy, you want it to be relevant to your audience. You want it to resinate.  But, you do not want the reader to feel like you're speaking directly to them.
Instead, talk in general terms: "Most women…" or "My clients typically…" and allow the reader to draw the connection to the fact that they too are in that group. Without YOU saying it.
7 – Don't make users feel bad about themselves – Be positive
Remember, Facebook values the user experience, so they want to ensure the copy you're using in your ads leaves people feeling good. For that reason, you want to avoid focusing on the negative. This includes negative descriptors like "fat," or feelings like "overwhelmed," "tired," and/or "hopeless."
This is similarly related to the images you use. For that reason Facebook straight up does not allow photos with scales or measuring tapes, which are often pictured in ads encouraging weight loss.
8 – Don't Make Unrealistic Claims
When writing your ad copy, you can talk about trends you've seen, or stories of personal experiences, but you want to ensure that you're not making any unrealistic claims.
Another way to ensure you're not claiming the results that people will achieve, is instead to focus on the transformation that they will be making. So instead of focusing on the end result, focus on the experience people will have when they use your product/service.
It should go without saying that you also can't make any false claims either.
9 – Before and After Photos
We've all seen them, before-and-after photos promoting the newest diet fad. No one likes them, and Facebook wants to ensure people like the ads they see – so they're not allowed.
But this rule extends beyond weight loss products to include anything at all – you can not show a before photo of a person/place/thing and then an after photo of a person/place/thing. Not for weight loss, artwork, home remodeling, etc.
Come up with a different way to promote the topic without a before-and-after.
10 – Illegal or Restricted Content
This should go without saying, but if it's illegal, it can't be advertised.
When it comes to something like alcohol, which is only illegal for people under 21, you'll need to ensure your ads are not targeting anyone under the age of 21.
Products related to marijuana – including hemp and CBD – are increasingly becoming legal in the US however these products (along with tobacco products) are on Facebook's list of restricted content. It's their right to restrict content as they see fit.
Firearms and explosives are another category that are prohibited on Facebook.
As I mentioned, this is just a quick rundown of the most common mistakes I see resulting in ad disapprovals, and I highly recommend you read through the Community Standards as well as Facebook Advertising Policies to learn the ropes yourself. If you have any questions, reach out and ask.
Finally, remember that it's not a person reviewing your ads, it's an algorithm that sometimes makes mistakes. Next week I'm going to share some tips for appealing your ad for a manual review if you believe it should have been approved during the review process.
---
Next Steps

Continue doing-it-yourself:
If you know you need to improve your marketing, but don't know exactly where to start (or you just love buzzfeed-like quizzes!), then you need to check out THIS QUIZ. It'll reveal exactly what you need to take your marketing to the next level PLUS start an epic dance party!

Get some extra guidance:
There are a variety of ways that we can work together towards your business' marketing success. There is something for every level of expertise and for every budget (even free!) so that you can build your business leveraging Facebook Ads that convert – without spending hours fumbling around Ads Manager!