I'm Meg Brunson and I provide marketing support to

p

r

o

g

r

e

s

s

i

v

e

mission-driven entrepreneurs growing & scaling their businesses without sacrificing family-time. 💕

My clients enjoy predictable leads, traffic, and positive ROI – and they're spending more time making happy memories with their kids than stressed over marketing their business. 🙌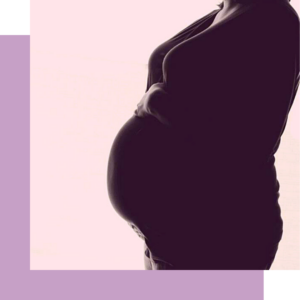 I experienced a high-risk pregnancy that almost took my life – twice.
I remember being in the hospital room and hearing the doctors talking outside my door. It was the same hospital where I lost my dad when I was 11. The doctors were discussing my odds – the likelihood that I'd go home to see my kids again.
In that moment I realized how valuable my time really was. 💕

The criminal justice degree I earned in college did little to prepare me for the entrepreneur life 🤯
But there was no way I could return to a traditional job. 🙅‍♀️
In the early days, I didn't have money to hire help, so I spent tons of time – way more than 40 hours per week – trying to do all the things.
→ I had no experience with coding, yet I had to figure out how to build a website 
→ I had no experience with marketing, yet I had to figure out how to attract quality clients
→ I had no experience with business at all, yet I had to figure out how to make it all work
I had no idea what was working and what wasn't. I just kept trying to do it all.
It led to burnout and almost crushed my entrepreneurial dreams. 😩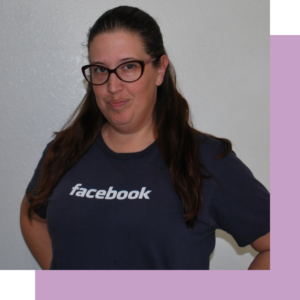 Luckily, I found a community of parents building businesses who were all in a similar boat. We shared ideas and collaborated to ensure everyone was successful.
Before too long I had systems in place that allowed me to dive into learning the ins and outs of Facebook marketing and I emerged as an expert in that space. Then something unbelievable happened…
Facebook offered me a job! 😳
When I tell people I worked at Facebook they always want to know if it was as fun as it seems… It was!
Inevitably, they want to know if there was anything I didn't like…There was!
Facebook only assigned me to work with the highest spending accounts – because for them, it was all about the bottom line. 💰 📈
I had a call one day with a mom who had the coolest business. I could hear her 2-year-old son in the background and she was expecting a new baby any day. I knew a few phone calls with me would skyrocket her success. BUT Facebook insisted she wasn't "spending enough" and they prohibited me from scheduling another call. 😞
It was so disappointing
I never got to help the emerging entrepreneurs & family businesses I was called to serve.

When it came to my own family, I wanted nothing more than to treat them to a beach vacation, or trip to Disney – but my paid-time-off was always exhausted by sick kids, school meetings, specialist appointments and the occasional field trip or school play.
Facebook was just another 9-5 leaving me without enough family time 😭
I knew I needed to reenter the entrepreneurial world if I wanted to (1) find the freedom and flexibility my family deserved, and (2) empower other families to build profitable businesses so they could spend more time together
I made the difficult decision to walk away from Facebook and begin building my legacy.
The opportunities provided to me at Facebook allowed me to grow and expand my marketing experience and offered me a unique perspective from other digital marketers.
I took the bits and pieces I liked best and built them into my newest business…
EIEIO Marketing focuses on done-for-you Facebook Ad Management.

Through highly targeted, results-driven, Facebook Ads clients have experienced results that include:

→  Doubling lead volume without a budget increase
→  62% more sales than the in-house team
→  Attaining a 16x return on ad spend
→  Reducing the cost per lead by over 90%

Our fees depend upon the exact strategy we're implementing, but our agency clients are typically investing, or ready to invest, $3000-5000 per month in order to increase their ROI and add another zero to their annual revenue.
And I found a way to increase my impact
It was important to me to have a way serve people at multiple stages of business – whether they were just starting out, or scaling past 7-figures – which is why FamilyPreneur® was born.
The FamilyPreneur® Business Accelerator offers education, accountability, and community to family-first entrepreneurs.

Members access the resources, community, and support to build their business without sacrificing family time -or- wasting money. We learn from a wide variety of trainers – each with unique experiences & expertise – and enjoy a variety of virtual events each month to help reach our goals.

It's an incredible and empowering collaborative space.
We work, win, celebrate, and grow… together.

Learn more about joining the community
As for my family…
We've been able to take family vacations…
to the extreme!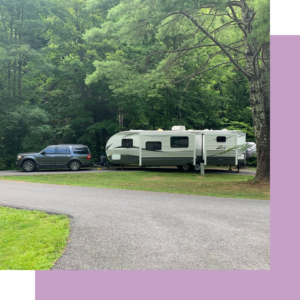 We are 4+ years into a "permanent vacation" as we travel the US indefinitely in an RV. We've made incredible memories in 48 states… and our journey is far from over!
Sometimes I still pinch myself! 
Now, you may not have any desire to pack your family up into an RV indefinitely – and that's fine, we all have different dreams and measures of success – but, I know you want to be in control of your time and money.

Working from home requires a unique family dynamic.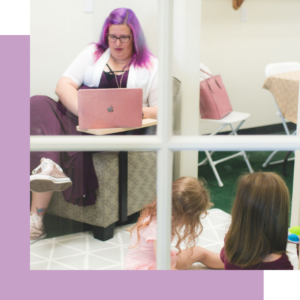 As entrepreneurs we often work extended hours into the night and on weekends. And as parents, it's important that we not sacrifice quality time with our families – after all, they're the reason we pursued entrepreneurship in the first place.
It can feel impossible at times
Like you'll never break free of the paycheck-to-paycheck feeling…
Or, you'll never be able to step away from work long enough to be truly present with the kids…
I'm here to tell you… It's possible to be both

a super successful business owner
+
an ultra-involved parent
without losing your mind 🙌
Connecting and collaborating with likeminded entrepreneurs who "get it" is the key.

And if you've read this far, I'm guessing we're pretty well aligned.
If you're ready to spend less time worried about marketing your business and more time working in your zone of genius

or just paying with the kids

then I invite you to connect with me so we can make this year the most rewarding yet.

————————————————-

Connect about outsourcing your marketing      Connect about joining the community